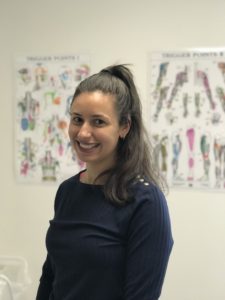 Dr Renae joined us early in 2018 and was originally looking after Bianca's patients while she was on maternity leave. We are delighted to have Renae on our team permanently now
Renae treats using a structural approach aiming to influence the musculoskeletal system and is a big advocate for patient education believing it enhances patient recovery outcomes
Renae originally studied at RMIT University graduating with a double degree in Bachelor of Health Science / Bachelor of Applied Science (Osteopathy). Renae has a strong interest in helping individuals with their sporting injuries and rehabilitation given her experience as a sports trainer. She also has a strong interest in women's health, valuing the positive effects of Osteopathy.
Renae has acquired a lot of experience in AFL football having been involved for six years in the Essendon District Football League and the VFL as part of the medical team. She has certainly seen an array of injuries throughout her time working alongside athletes. Renae also teaches and tutors anatomy classes at RMIT University.
When not in practice, Renae enjoys running, going to the gym and being amongst the outdoors hiking. Prior to her football commitments Renae represented Australia in Archery having competed Internationally at the Youth World Championships and Senior World Cup.
Renae has completed further studies allowing her to use dry needling during her treatments. Renae is available for appointments Monday through Saturday (Alternating Friday and Saturday clinics weekly).