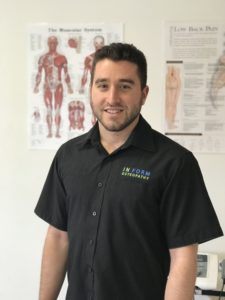 Dr Francesco (Frank) has been part of the clinical team at IN FORM Osteopathy since 2017.
He studied at RMIT University and has recently graduated from the Bachelor of Health Science/ Bachelor of Applied Science (Osteopathy) programme. Francesco places a strong emphasis on musculoskeletal conditions and helping the patient rehabilitate through a self management plan that is specifically tailored to each individual's needs.

Passionate about health, fitness and the human body the move into the study of Osteopathy was a natural progression. He excels in sports and enjoyed playing soccer for 16 years as well as partaking in boxing with trainer and professional Australian boxer Paul Ferreri for approximately 11 years. In his spare time Francesco focuses on expanding his knowledge and skills within the realm of health sciences - undertaking additional training in kinesiology taping and dry needling.

 He also is a sports trainer at Strathmore Football Club where he assists in treating and rehabilitating athletes so they can function at an optimal level. 
Dr Frank is with us Monday, Tuesday, Friday and Saturdays every week.